In Wild Spirit Fund, there are no middlemen; we work across Africa on the ground in our projects and in collaboration with local experts. We pass the message from schools to policymakers.
Biodiversity's Conservation & Health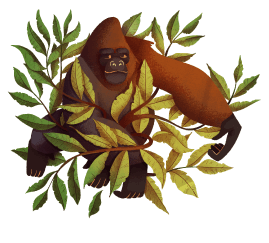 Placement of radio tracking devices in rhinos
With the face-to-face participation of sponsors. This is an important activity in addition to efforts to protect rhinos against the constant threat of poachers in South Africa.
Veterinary work in nature reserves.
Along with Wild Spirit Vet, numerous clinical and wildlife management cases were carried out in South Africa during June, July and August.
Health and conservation Research of gorillas in Gabon.
After years of preparation and planning, our project in the Moukalaba National Park has the first funds and the scientific collaboration of the European University of Madrid. In 2022, the second field inspection was carried out in Gabon, and the protocol was developed. Sampling and first studies will be carried out from January 2023.
Vet Clinic at chimpanzee rescue centre
Rescuing animals from the hands of the illegal wildlife trade is one of the most sensitive, complex and at the same time comforting jobs in our field. In the Democratic Republic of Congo, we collaborate with the J.A.C.K chimpanzee rescue centre in equipping the veterinary clinic. In 2022 we sent medicines, healing material, a microscope and an anaesthesia monitor from South Africa.
Education + Coexistence with wildlife + Gender equality + Job creation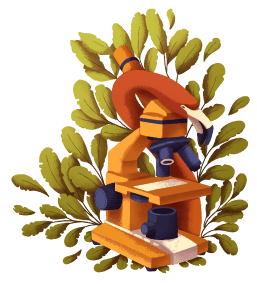 Maasai primary school in Tanzania
For the second consecutive year, our Masai primary school in Tanzania has provided education, food and drinking water to 80 boys and girls. This initiative has the recognition of community leaders and the support of all families.

Teachers and school supplies for 80 students.
Preschool: 60 (25 boys/ 35 girls)
Primary: 20 (8 boys and 12 girls)
Professional training: Two annual scholarships

Daily food and drinking water for 80 boys and girls.

Social integration through teaching in English, Maasai and Swahili.

All girls in the community have the right to attend school every day.
Scholarships for secondary studies and vocational training for two girls.
Employment of a female teacher and a female worker in the school.

Environmental Education and Wildlife Conservation.
Training program for coexistence with biodiversity; protect our natural heritage. Classes and didactic material.
Human-wildlife conflict mitigation.

Three direct jobs were created.

Travel Solidarity. Gothombi
Solidarity trips to our project in Tanzania.
Our Tanzanian school is located in one of the aridest areas of the country. The dry season extends from July to December. Since October, access to surface water has been minimal, and the conflict with wildlife has increased. Hence the importance of building a water well. In 2022 Wild Spirit Fund, we secured aid funds to conduct the first hydrological survey and survey. Unfortunately, despite all efforts, the aquifer's location was unsuccessful. To mitigate the situation, in November, we donated 20,000 litres of drinking water, which was more than enough for all our students until December, when the rains returned.
Social & Ecological Awareness + Women Empowerment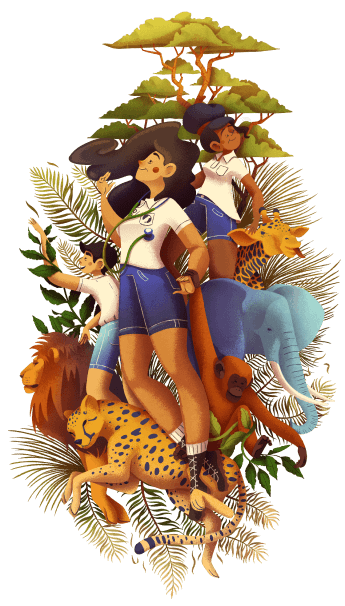 I.E.S Los Cerros, Úbeda, Initiatives.
Charity race target 8,800 runs for Masai.
Fundraising and participation of 100 students
Cultural, educational and physical-sports centre activities supporting Tanzania's Masai community and biodiversity.
Increase social and ecological awareness in 1,000 students and 40 teachers in Spain.
Challenges and achievements of women in science. Focus on Africa.
100 Attendees. Adults.
Women and girls in science. Cancun Planetarium.
120 Attendees. Primary and secondary students.
Playa del Carmen and Cancun Planetarium
Wildlife – One Health talks, motivation and inspiration.
100 attendees. High school students.
León Veterinary Congress. Mexico
Wildlife Vet Medicine & One Health Scientific Presentations in Veterinary Congress.
300 Veterinarians and Veterinary students in Latin America.
Wildlife Medicine and Conservation. Zaragoza Spain
Scientific Presentations in Veterinary Congress.
200 Vet Students. 
Navigating against toxic leadership.
50 Attendees. Business Women & Diplomats in South Africa. By SCC South Africa. 
Sale of solidarity necklaces handmade by women in the local community.
Economic support for women in Tanzania.
Donation Design by Luiza Laffitte.  Awareness
Professional video of Gabon project donated by Social Seed Media.
Social Media Awareness & Fundraising.
Donation of funds and awareness of pet owners. Special recognition to the Albéitar Clinic in Granada.
Fundraising and awareness for pet owners.
Media disclosure. Interviews and Articles in the Press and Podcasts
El País: Future Planet Radio TeleVisión Española El Economista Libertad FM
Thousands of readers and listeners.
Institutional Recognition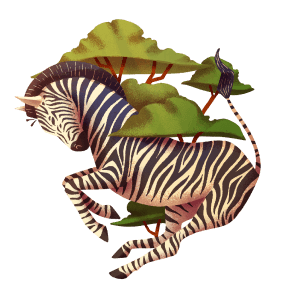 2022 can be summed up as a year of critical institutional collaborations and state registrations.
After a long process, in July 2022, our Wildlife Conservation Medicine Foundation was formally registered in the state registry of Spanish Foundations and South Africa.
The President and Founder of our foundation, Fabiola Quesada, was appointed Vice President of the Association of Spanish Scientists in South Africa. In that capacity, she met with the current Prime Minister of Spain, Mr Pedro Sanchez, during his visit to Pretoria in October 2022.
Wild Spirit Fund has the support and collaboration of the Embassy of Spain in South Africa in environmental awareness projects and fieldwork in conserving endangered species. These collaborations fill us with pride and hope, demonstrating that the Spanish government institutions are committed to nature and scientific diplomacy.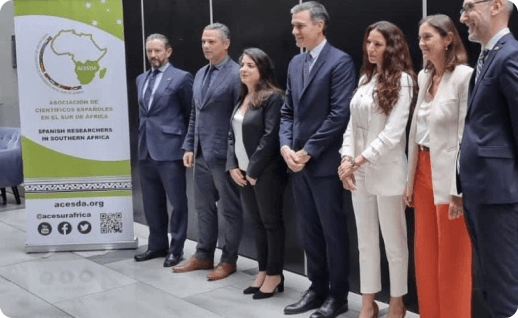 The photo shows Dr Fabiola Quesada next to Mr Pedro Sanchez, Spain's Prime Minister and Minister 
In 2022 Wild Spirit Fund, we have directly contributed to 16 of the 17 United Nations Sustainable Development Goals and much more.